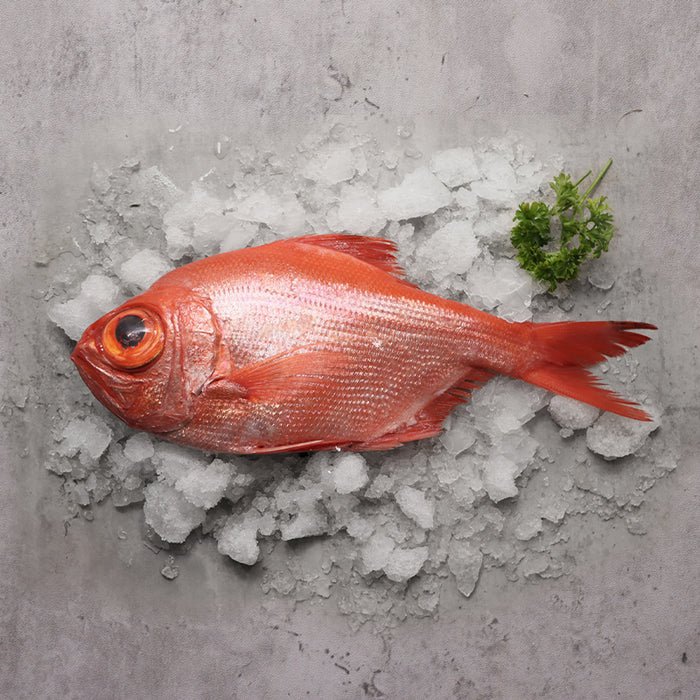 Fresh Imperadore Sashimi Grade Whole Fish
Sold out
Original price
$68.00
-
Original price
$94.00
Imperadore (Nanyo Kinmedai 南洋金目鯛 in Japanese or imperador in Spanish spelling) has an attractive red body with big watery eyes. They can found in temperate and subtropical ocean waters. 
Imperadore is one of the Australia's most highly regarded food fish. They look very similar to alfonsino however they taste much better than alfonsino and the price is around double of alfonsino. It is well-known for its succulent flesh and fat belly. It is in fact one of the highly regarded sashimi fish at Japanese restaurants. It has a sweet and delicate taste when they are done in sashimi style. It can be easily prepared and filleted as it doesn't come with a lot of small bones. You can steam, poach, grill or serve it raw as sashimi. 
Fresh imperadore comes:
fresh
sold per whole fish
gutted and cleaned
based on uncleaned weight
Product of Australia
Please note: The availability of this wild-caught seafood item depends on factors such as weather conditions, market conditions and your preferred delivery date.  We'll do everything possible to ensure you get your item when you want it, but there is a chance that this item will not be available on your chosen delivery date, in which case we would notify you as early as possible so you can select another item or make other arrangements.