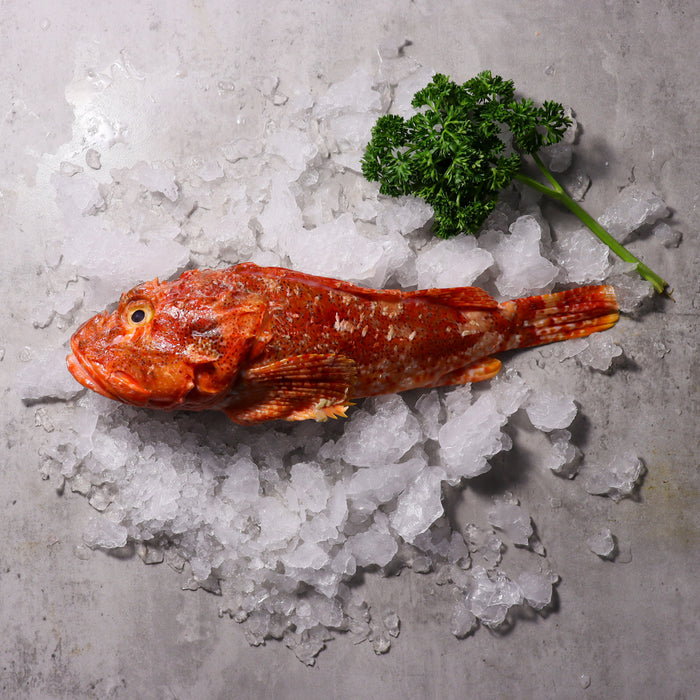 Fresh Red Scorpion Whole Fish Sashimi Grade (Cleaned) per kg
Sold out
Original price
$61.95
-
Original price
$61.95
Don't judge by its looks! Although the red scorpion has a deceptive appearance and spiny skin surface, this fish is relatively highly priced as its taste is compared to lobster, or some people believe that it taste between a monkfish and a sea bass. 
You can serve red scorpion in sashimi, soups or stews. Alternatively you can simply pan fry with salt and pepper or go for a BBQ or char-grilled options. And some creative or adventurous chefs served them as fish and chips. So it's time for you to unleash your creativity with this fish!
Taste Test: We have taste tested this fish by steaming it with ginger and shallot then drizzle some soy sauce onto it. We amazed by the amount of meat this scorpion fish has. It has white firm flesh which is a little flaky. It resembles the taste of a rock cod or a grouper. This is definitely worth a try (and you will fall in love with it)! 
The Red Scorpionfish is very common in reefs and shallow coastal waters around Sydney. Divers commonly see the fish lying motionless on the bottom, usually moving when disturbed. For many years, this species was called Scorpaena cardinalis. 
Fresh Red Scorpion Whole Fish come: 
Fresh

 

 
Gutted and cleaned 


Sold per kg based on uncleaned weight

Product of New Zealand

 
Please note: The availability of this wild-caught seafood item depends on factors such as weather conditions, market condtions and your preferred delivery date.  We'll do everything possible to ensure you get your item when you want it, but there is a chance that this item will not be available on your chosen delivery date, in which case we would notify you as early as possible so you can select another item or make other arrangements.