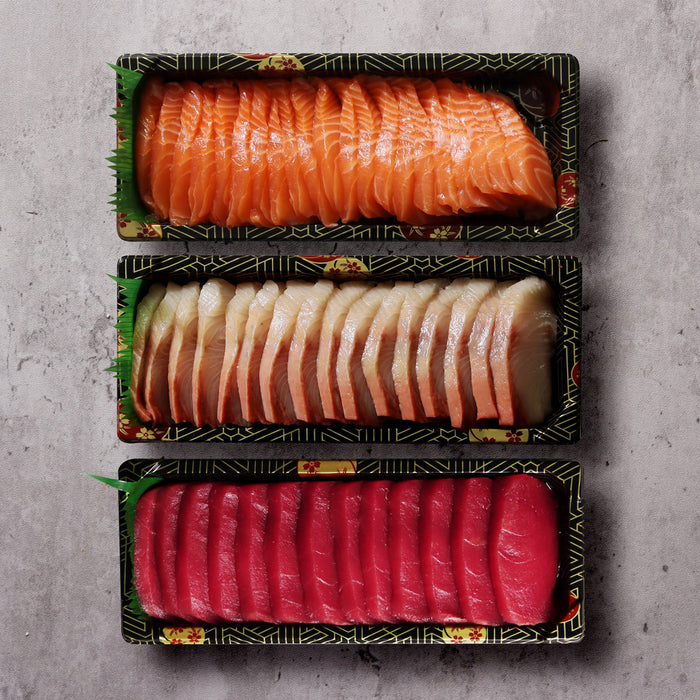 Essential Sashimi Combo 3 x 250g (Salmon, Kingfish, Tuna)
Sold out
Original price
$59.00
-
Original price
$59.00
Looking for a sashimi fix for your craving? Fishme's Essential Sashimi Combo is your ultimate choice!
To help you satisfy your demands and make sure you can enjoy the freshest, restaurant-quality sashimi with this unique mix, our staff has combined our most well-liked sashimi. They are perfect to be eaten raw, use these thinly sliced raw fish for aburi, or eat sashimi with vinegared rice.
Our Essential Sashimi Combo Includes:
Fresh
Thinly sliced
Salmon Sashimi Tray 250g
Hiramasa Kingfish Sashimi Tray 250g
Tuna Sashimi Tray 250g
Pickled ginger, wasabi and soy sauce
All of these fish are harvested in Australian waters and hand-sliced from our sashimi grade fillets and packed in separate trays.
At Fishme, we only offer high quality and the freshest seafood to customers. Arrange your seafood delivery with us and have it delivered to your door without the hassle of doing a trip to Sydney Fish Market! We offer same-day delivery for all orders placed before 9am (excludes pre-order items as shown in the cart).