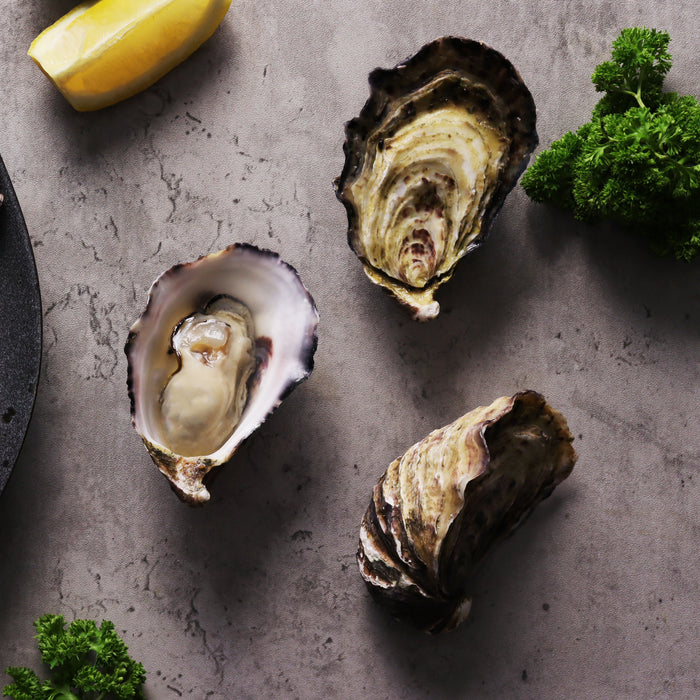 Live Coffin Bay Pacific Oysters Premium per dozen
Sold out
Original price
$25.99
-
Original price
$25.99
If you haven't already tried these oysters you're missing out on something special!  If you have, then we need to say no more.  Regularly rated by food connoisseurs and critics in the top 3 Australian oysters.
These little treasures are grown in the pristine waters of Little Douglas at Coffin Bay in South Australia. They are known for their high-quality taste and appearance, creamy texture with plump meat - one of the best oysters in the market worldwide and a product that makes Australia proud.
It's hard to describe the taste because there's really nothing like a Coffin Bay oyster, but they have a hint of melon and cucumber flavour and are often a mix of sweet, salty, and briny all-in-one.  Eat them fresh and whole straight out of the shell, or dress them in refreshing lemon juice, horseradish, or a classic cocktail sauce. For more ideas on how to serve oysters see our Oysters Recipes.
There's really no better way to enjoy an oyster than when it's delivered to you live in the shell for you to shuck just when you're ready to eat. Don't know how to shuck oysters? Watch our video on how to shuck oysters.
 Coffin Bay Live Oysters come:
Live unshucked

Sold per dozen

Product of Australia