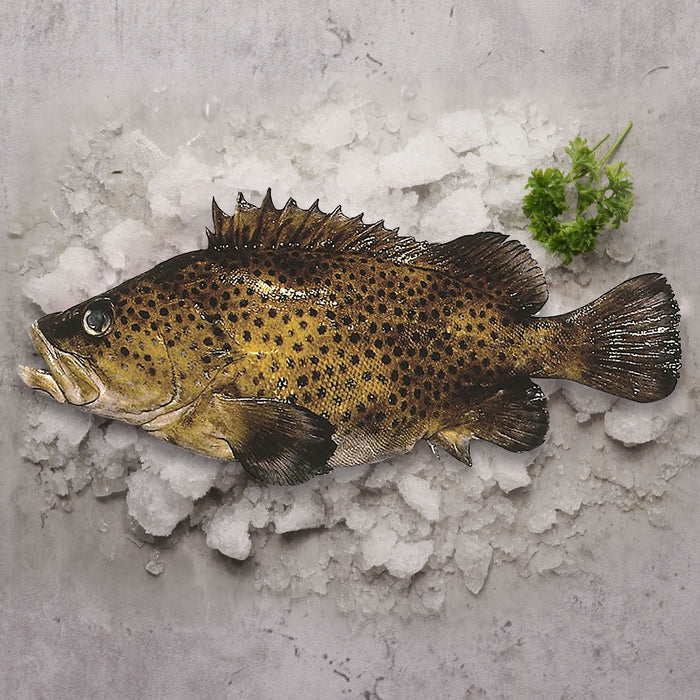 Fresh Wild-Caught Australian Eastern Wirrah per kg
Sold out
Original price
$45.99
-
Original price
$45.99
Simply fish'licious! Looking for something new to bring to the table? The Eastern Wirrah belongs to the rock cod family predominantly found near rocky reefs in the northeast to the southeast part of Australia. It is covered by small blue-centred spots and is majorly yellow to green in colour. It's mostly caught by anglers, often called the Old Boot. Its moist flesh is white, firm, without any unwanted markings and is exuding a pleasant fresh ocean smell.
Easter Wirrah has a mild flavour, and moist flesh with large flakes, they also have few bones which can be easily removed. To prepare this stunning whole fish, score it at its thickest part of the flesh for easy heat penetration, from there you either steam, pan-fry, bake or grill it. This firm fish is also great in curries, casseroles and soups.
Eastern Wirrah comes:
Fresh
Whole
Cleaned
Sold per kg (approx. 2 fish per kg), based on uncleaned weight
Product of Australia
Please note: The availability of this wild-caught seafood item depends on factors such as weather conditions, market conditions and your preferred delivery date. We'll do everything possible to ensure you get your item when you want it, but there is a chance that this item will not be available on your chosen delivery date, in which case we would notify you as early as possible so you can select another item or make other arrangements.