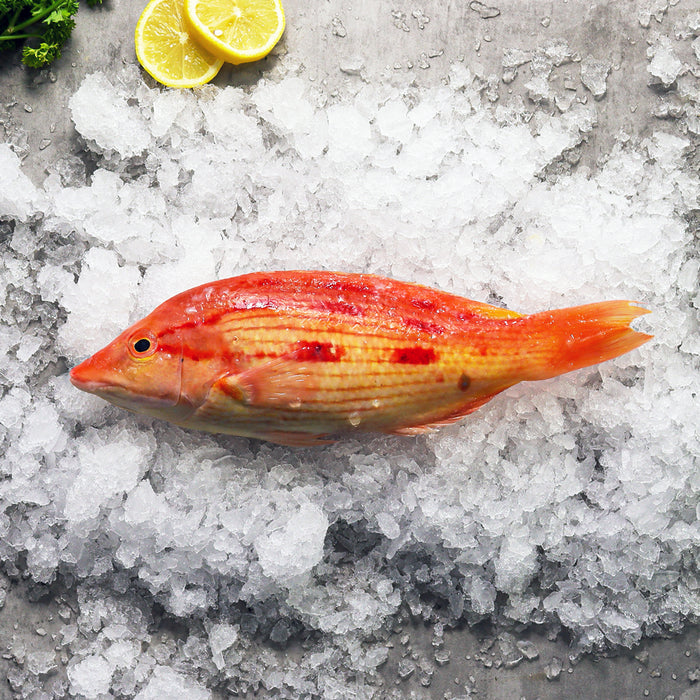 Fresh Eastern Pigfish Whole
Sold out
Original price
$30.99
-
Original price
$65.00
The red pigfish, often referred to as the red hogfish or eastern pigfish, is a species of wrasse that is indigenous to the south-west Pacific Ocean, including Lord Howe Island, Norfolk Island, and the Kermadec Islands, which extends from eastern Australia to New Zealand. It resides in offshore waters and reefs. Females have three horizontal rows of big red dashes along the sides and an upper portion that is pinkish. Males have a huge cream to pale yellow splotch below the soft dorsal fin and a massive black blotch on the dorsal fin that is edged in blue.

It has delicate white meat with a mild to sweet flavour and big flakes with soft-medium firmness. Whether you steam, broil, or prepare as sashimi, this is one of the greatest eating fish you will ever taste.
This fish is usually pricey compared to other fish you can see in the market. You can rarely see pig fish at a fish shop or occasionally you will see just a few of them available. It is definitely worth getting your hand on one of these and try it!
Eastern Pigfish comes:
Fresh
Cleaned
Weight of fish based on uncleaned weight
Product of Australia
Please note: The availability of this wild-caught seafood item depends on factors such as weather conditions, market conditions and your preferred delivery date. We'll do everything possible to ensure you get your item when you want it, but there is a chance that this item will not be available on your chosen delivery date, in which case we would notify you as early as possible so you can select another item or make other arrangements.