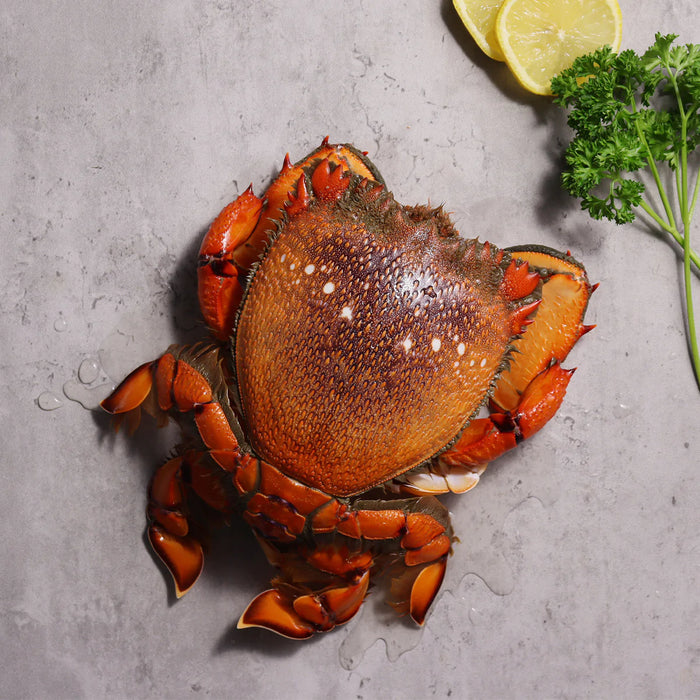 Fresh Whole Australian Spanner Crabs
Sold out
Original price
$33.00
-
Original price
$45.00
Nothing beats the fresh taste of spanner crabs, which have a unique flavour — sweet and with firm flesh!
Spanner crabs are a good choice for buyers concerned about sustainability, as the selective harvesting method eliminates bycatch. In Australia, the crabs are trapped in baited net bags known as dillies. Australian spanners are available year-round except for a month beginning at the end of November, when they spawn. The majority of spanner crabs harvested in Australia are exported live.
In particular, spanner crabs have a milder flavour than mud crab and have a fresh oceanic taste. The most common way to cook whole spanner crabs is by boiling or steaming for 12 or 13 minutes. After that, immediately immerse in cold water to stop any further cooking. The picked meat may be added to risottos, pasta dishes, salads, sandwiches, stir-fries, and other foods. Additionally, it functions well as a filling for Asian-style dumplings and ravioli.
Large Spanner Crabs Come:
Fresh

Whole
Product of Australia