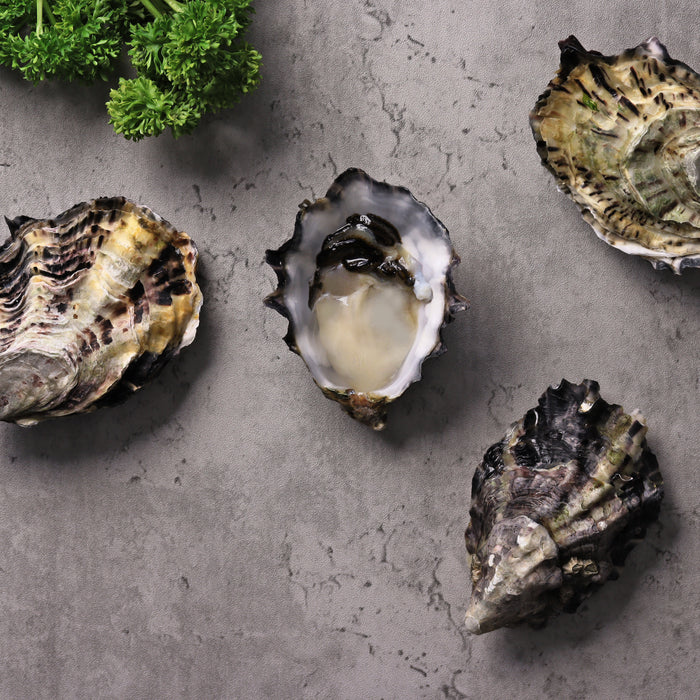 Live St. Helen's Pacific Oysters Premium per doz
Sold out
Original price
$28.99
-
Original price
$28.99
The phrase "the world is your oyster" is not an exaggeration. In contrast, the oysters are more like our world in this instance. When we discuss St Helen's oysters in this instance, it is not any different. They can be found in Tasmania, where the tidal motions of the water provide a fantastic source of food for the young as they grow. They are quite flavorful and have a crisp taste that is typical of a pure tidal estuary. They are a no-brainer for seafood lovers who prefer the substantial taste of creamy, rich, chunky oysters since they are heavily influenced by the nutrient-rich south-east and east coast marine currents. You'd be foolish to pass up trying what was once considered to be Tasmania's greatest oysters.
Squeeze a little lemon juice, and a few drops of Tabasco sauce, and slurp these suckers down or you can prepare it by the classic Oyster Rockefeller. For more ideas on how to serve oysters see our Oysters Recipes.
Don't know how to shuck oysters? Watch our video on how to shuck oysters.
St. Helen's Premium Live Pacific Oysters Come:
Live

Unshucked

By the dozen
Product of Australia