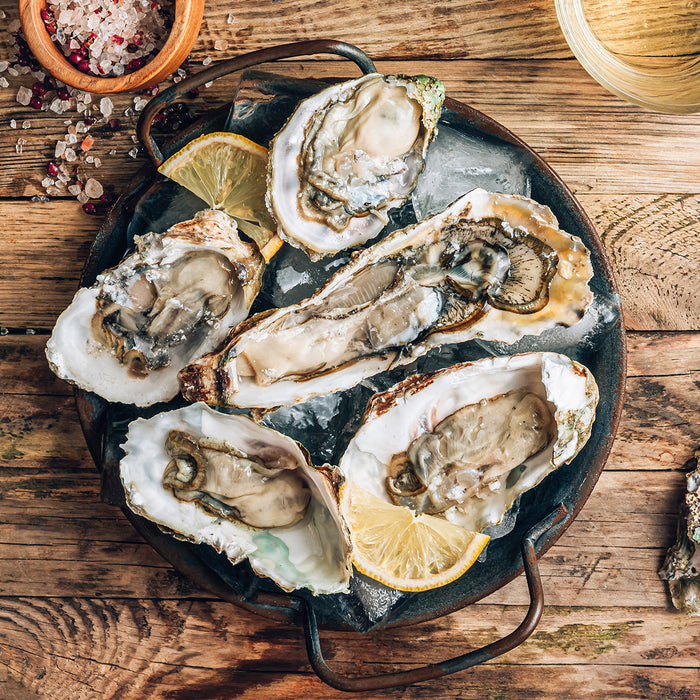 Premium Sydney Rock Oysters Shucked per dozen
Sold out
Original price
$38.99
-
Original price
$38.99
Sydney rock oysters have been farmed in Australia for more than 130 years.  Our premium Sydney rock oysters take 2-4 years to reach the right size and are sourced from different areas in NSW depending on the season and quality from each farm.  The prime months of the season are September through March. 
All oysters from FishMe including our premium Sydney rock osyters are kept live in our facility and shucked to order.  We don't pre-shuck any oysters that we don't have orders for.  This guarantees that the oysters you receive will always be fresh.
Nothing compares to freshly shucked oysters for an ocean flavour that is salty, sweet, seaweedy, and umami!  The finest way to serve it is raw with a mignonette and a cool, crisp, fresh Semillon to go with it. However, if you do decide to cook it, we advise you to try lightly battering and frying it to bring out its opulent flavour. For more ideas on how to serve oysters see our Oysters Recipes.

Sydney Rock Oysters comes:
Premium Size

Freshly Shucked to order
Sold by the dozen

Product of Australia