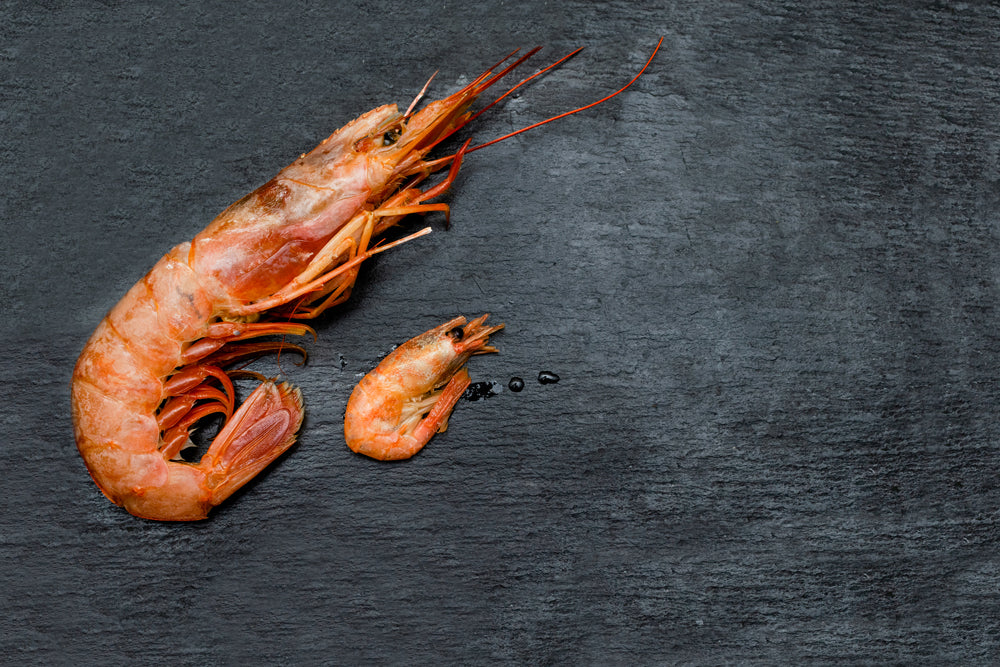 How to Pick the Perfect Sized Prawn
When it comes to buying prawns from your favourite seafood supplier, the conversation between you and the store holder is generally centred around the type of prawns you're looking for. You wouldn't be wrong to think that it's completely acceptable to walk into a store or scroll through our prawn products online and ask for a certain amount of King Prawns, because the name suggests they're particularly large. However, contrary to popular belief, a King Prawn actually doesn't just mean a "big prawn". In fact, it's just a name for the species itself. Most people don't realise that prawn sizing is so vast and varied, and simply asking for King Prawns doesn't specify exactly what size of prawn you're actually wanting to purchase. The good news is, we happen to know a thing or two about prawns and their structure. After all, we do live and breathe seafood, so you're in good hands.
In order for you to be able to understand prawn sizing, there are a couple of key terms you are going to want to know about first — HOSO and PTDO. These abbreviations represent the form the prawn comes in, with HOSO being short for Head On Shell On, and PTDO being short for Peeled Deveined Tail On. Two incredibly common terms globally, they simply describe the way the prawn will be sold to you. Now that you are familiar with these terms, let's talk about prawn sizing. As a way to identify the size of a catch, allocate a price to the prawns per portion, and so you know what you're buying, depending on what you are using the prawns for, a sizing model was introduced. You may have seen figures like U10 or U6 before when you've gone to purchase prawns and are weighing up your options — these stand for the prawn size and are universally known.
For example, extra-extra large prawns are known as size U6 and you can get about 13 prawns per kilogram, while Black Tiger Prawns that are U15 would usually equate to about 33 prawns per kilogram. You may be wondering to yourself, "why do I need to know the size of the prawn anyway?''. Well basically, knowing the size of the prawns you are purchasing will allow you to prepare for whatever it is you are cooking. If it is a seafood chowder you are making for guests, it is more likely that you are going to be needing smaller prawns. In the same sense, if you are planning on hosting a BBQ with a whole lot of people, you may be looking more at getting larger prawns, which tend to be about U6 to U10 in size. In particular U6 jumbo prawns will be a showstopper for your guests! In a nutshell (or a prawn shell), it is all dependent on what you are going to be doing with the prawns.
 We have put all these sizes together in a table for you. Bookmark this page and refer to it from time to time when you are shopping for seafood.
Prawn Sizing/Grading Table
| | | | |
| --- | --- | --- | --- |
| Size | Grade/pound | Quantity per pound | Quantity per kg |
| Extra-Extra Large or Jumbo | U6 | 6 | <13 |
| Extra Large | U8 | 8 | <16 |
| Large | U10 | 10 | <22 |
| Medium-Large | U10/U15 | 10 to 15 | 23 to 33 |
| Medium | U16/U20 | 15 | 34 to 44 |
| Small | U21/30 | 21 to 30 | 45 to 55 |
A delectable fruit of the ocean, prawns are a no-brainer if you consider yourself a seafood enthusiast. They are suitable for any occasion and there are plenty of different varieties to choose from — no matter what the season.