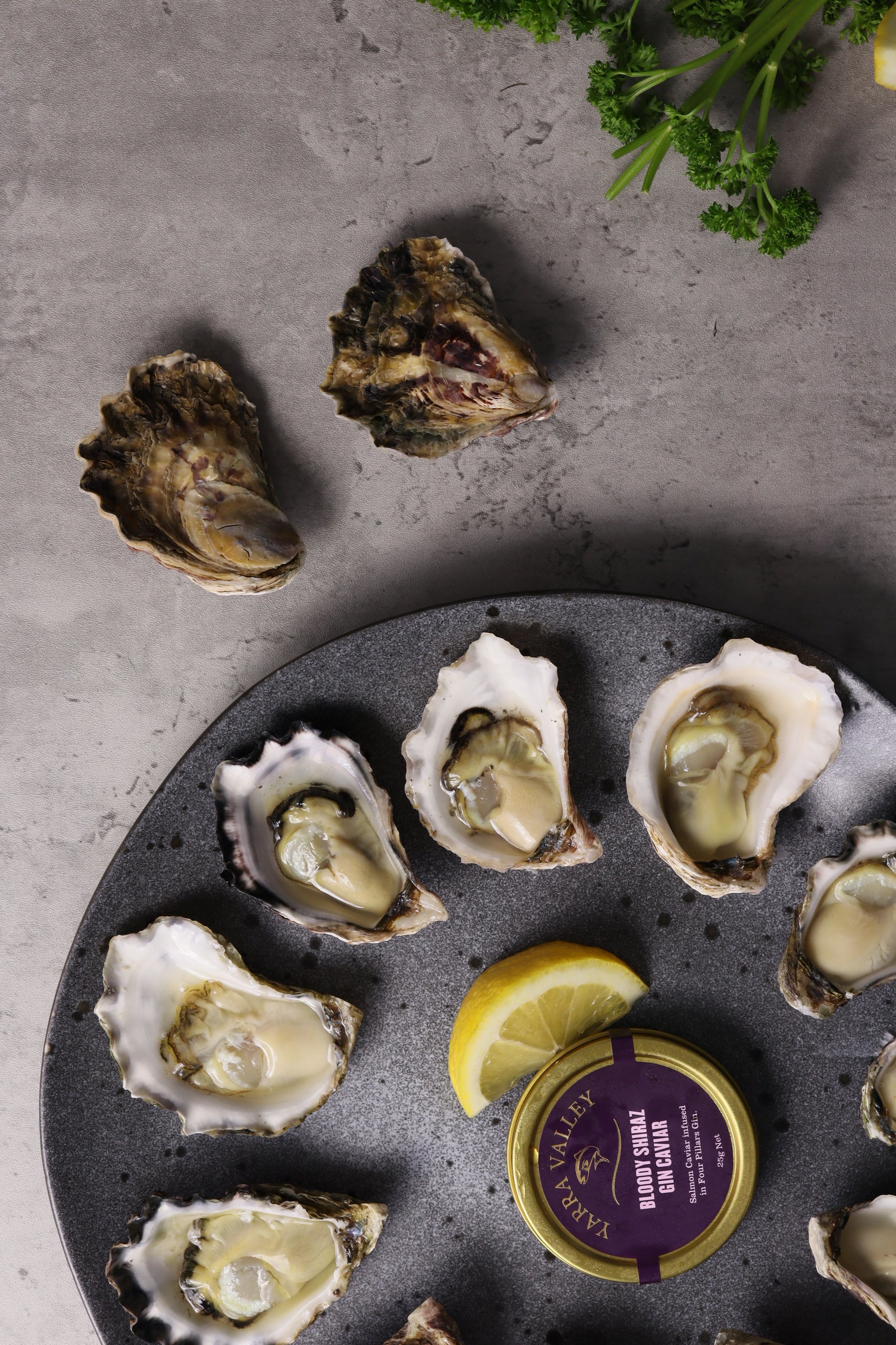 The Search is Over: Australia's Best Oysters
Every true seafood lover is familiar with the satisfaction of gulping down some good oysters.  If you're as much of a seafood enthusiast as we are, you can never get enough of them.  In Australia we are lucky to clean water in our seas and estuaries that result in some of the finest tasting oysters in the world, including the renowned Sydney Rock Oyster that is grown in estuaries along the coast of NSW.
Known for their high-quality, creamy, plump texture, they're incredibly hard to pass up for any red blooded seafood lover.  Buttery to taste, some have a hint of melon and cucumber flavour and are often a mix of sweet, salty, and briny all-in-one.  Sourced from across our vast coastlines that makes up much of the landscape of our beautiful country, we choose only the best of the best oysters for our much-loved seafood-loving customers. 
Our coastline is abundant with some of the greatest tasting oysters in the world, and we've searched high and low to bring you the most luxurious salt-water bivalve molluscs money can buy. Some might say we're biased, but the proof is in the pudding, or in this case, the oyster. Oysters are rich in rare amino acids, pack a mighty punch of protein, iron and brain-boosting omega-3 fatty acids, and are also high in zinc, which aids the production of testosterone. Here are a few of our absolute favourites. Go on, don't be shy — give them a crack (or a pop). We assure you, they'll be a culinary experience you'll keep coming back for.
Coffin Bay Live Oysters
For two generations, the Sellen family have been farming oysters in the pristine waters of Little Douglas at Coffin Bay. Not only do they distribute to South Australia, but they have already grown to share their produce Australia-wide. They pride themselves on their farm-to-table process and use a combination of mature grown oysters and oysters grown from seed, to ensure they have a wide range of biodiversity and that there are always oysters available. Renowned for their high-quality, pulpy texture and creamy taste, they're without a doubt one of the best oysters on the market. Premium grade, they're as fresh as can be and come either shucked or unshucked, depending on how you want to eat and cook them.  
Nambucca Sydney Rock Oysters
Farmed and harvested from the Nambucca River, on the north coast of New South Wales, these Sydney rock oysters are famous for their fat, rich and creamy texture and slightly salty punch of flavour from their brine. Bred in the most glass-like waters that are highly mineralised from the mountains above, they come in a slightly whitish shell, while the meat is lighter in colour than other varieties of Sydney Rock oysters — uniqueness at its finest. The drive along the river into Nambucca Heads is dotted with farms with the oyster sweet spot located between Stuart Island Golf Club and Gumma.
St. Helen's Premium Live Pacific Oysters
When they say "the world is your oyster'', they're not kidding. But in our case, it's more like the oysters are our world. It's no different in this case when we talk about St Helen's oysters. Found in Tasmania, where the tidal movements of the water bring an excellent source of food for the little ones as they grow, they have a crisp taste typical of a pristine tidal estuary and are super flavoursome. Heavily influenced by the nutrient-rich southeast and east coast oceanic currents, they're a no-brainer for seafood fanatics who enjoy the hearty taste of creamy, rich, chunky oysters. Once labelled the best oysters in Tasmania, you'd be silly to miss out on trying them.
Pambula Sydney Rock Oysters
While all Sydney Rock oysters are to die for, the Pambula variation is a hard option to beat. Harvested from the unspoiled waters of Pambula Lake on the south coast of New South Wales, they're smooth and subtle in flavour, so if you're not too big on the super fishy flavour, they're the perfect pick. Despite their subtlety, they definitely don't compromise on that rich, creamy texture, or the sweet and salty mineral tang oysters are oh so loved for. Their tame yet delectable taste is all thanks to the clean, green waters of the lake in which they are produced. The lake is where the freshwater joins up with the Pacific Ocean — the perfect environment for producing the finest and freshest oysters you can find.